Soundproof Water Pipes & Drainage Pipes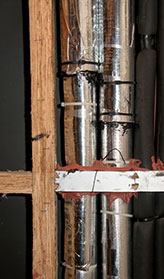 Noisy pipes are annoying and embarrassing. The sound of rushing water from an upstairs shower can interrupt an afternoon nap. Rattling pipes make your house sound cheap. And nobody wants their Thanksgiving dinner spoiled by the sound of a toilet flush followed by the rush of effluent in the pipes behind the wall.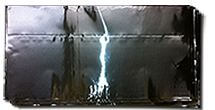 DexDamp sound dampening sheets prevent these problems.
The construction industry loves DexDamp. It's an easy way to reduce noise in plumbing pipes, sewage lines and other conduits. The reflective aluminum foil peel and stick sheets are thin and flexible. They can be cut to size and molded to any shape.
Better yet, DexDamp sticks to almost any surface. The peel strength of DexDamp easily outperforms conventional felted asphalt dampers. The super adhesion and conformability of DexDamp results in maximum surface contact, critical for high performance damping.
Step-by-Step Instructions For Soundproofing Conduits
Without removing Dexdamp's protective backing, align a sheet lengthwise along the pipe or conduit. Wrap it around the pipe.

In this example, a vertically aligned Dexdamp sound dampening sheet is not wide enough to wrap the pipe.

If the sheet is not wide enough — if there's a gap in coverage — rotate the sheet 90° in either direction to better cover the pipe.

Without removing the protective backing, check the reoriented sound dampening sheet again for fit by wrapping it around the pipe.

After determining the sheet fully covers the pipe, you may trim off any excess material using a scissors.

Peel off the protective backing covering the adhesive. The sticky side will adhere to almost anything.

Press the sticky side of the sheet onto the pipe. Wrap the sheet around the pipe until it's fully covered.

Repeat the proceedure using additional sheets until the pipe is covered top to bottom. It couldn't be easier!